Kubernetes este un serviciu ce prinde tot mai mult interes in ziua de azi.
Normal kubernetes ruleaza pe masini/Vm multiple care pot cere resurse ce nu sunt disponibile in scop didactic si din documentatia sa aflam ca putem crea un cluster pe LXD pentru o utilizare mult mai eficienta a resurselor disponibile.
Pentru test am folosit o instanta m4.2xlarge disponibila pe AWS ca instanta spot cu urmatoarea configuratie: 8 coruri, 32GB RAM si 100GB SSD si cu Ubuntu 16.04 LTS. (cu un cost mult mai mic de utilizare)
Ca versiune de LXD vom folosi 3.x si inainte vom dezinstala versiunea 2.x ce vine defaut cu sistemul de operare:
$

sudo

 

apt

 

purge

 

lxd

 

lxd-client

 

lxcfs

 

lxc-common

 

liblxc1


Reading package lists... Done




Building dependency tree




Reading state information... Done




The following packages will be REMOVED:




  liblxc1* lxc-common* lxcfs* lxd* lxd-client*




0 upgraded, 0 newly installed, 5 to remove and 0 not upgraded.




After this operation, 27.0 MB disk space will be freed.




Do you want to continue? [Y/n] y



Pentru Ubuntu 16.04 lxd - versiunile noi - sunt disponibile ca pachete snap:
sudo snap install lxd --channel=3.0/stable




sudo usermod -a -G lxd $(whoami)



Vom configura LXD care va folosi sistem de fisiere dir in loc de ZFS, din cauza unor balbe din pachetul kubernetes.
$ 

sudo

 

lxd

 

init


Would you like to use LXD clustering? (yes/no) [default=no]:




Do you want to configure a new storage pool? (yes/no) [default=yes]:




Name of the new storage pool [default=default]: kube




Name of the storage backend to use (btrfs, ceph, dir, lvm, zfs) [default=zfs]: dir




Would you like to connect to a MAAS server? (yes/no) [default=no]:




Would you like to create a new local network bridge? (yes/no) [default=yes]:




What should the new bridge be called? [default=lxdbr0]:




What IPv4 address should be used? (CIDR subnet notation, "auto" or "none") [default=auto]:




What IPv6 address should be used? (CIDR subnet notation, "auto" or "none") [default=auto]: none




Would you like LXD to be available over the network? (yes/no) [default=no]:




Would you like stale cached images to be updated automatically? (yes/no) [default=yes]




Would you like a YAML "lxd init" preseed to be printed? (yes/no) [default=no]:



Instalam prin conjure-up custerul de kubernetes:
sudo snap install conjure-up --classic




conjure-up kubernetes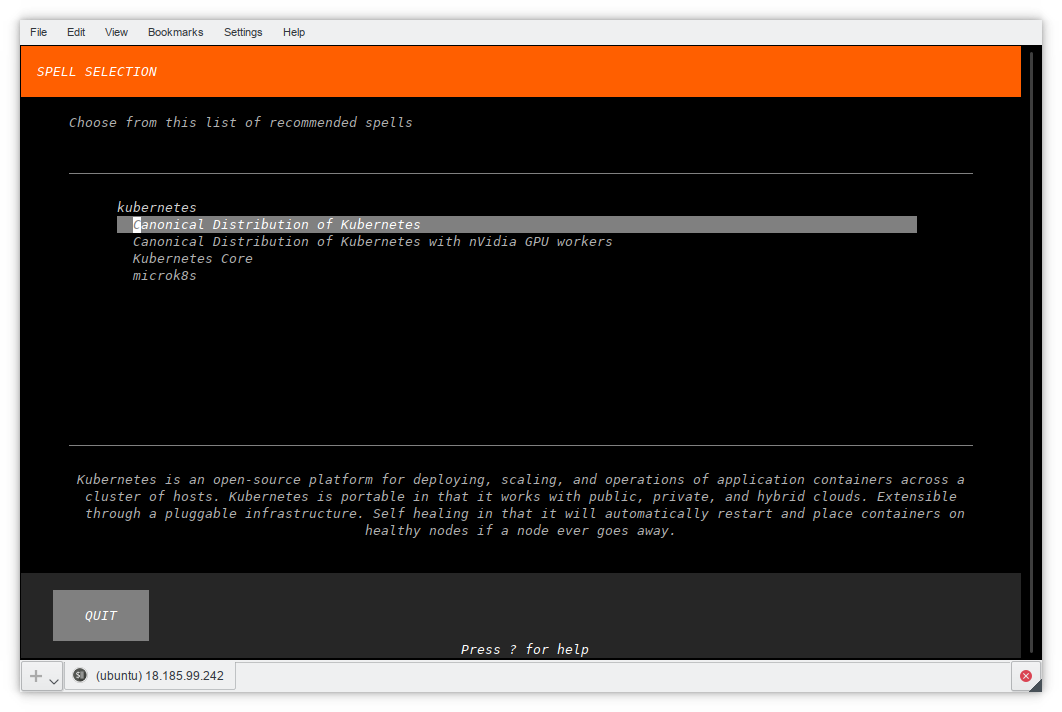 Selectam eventualele aplicatii de monitorizare (eu nu am selectat nimic):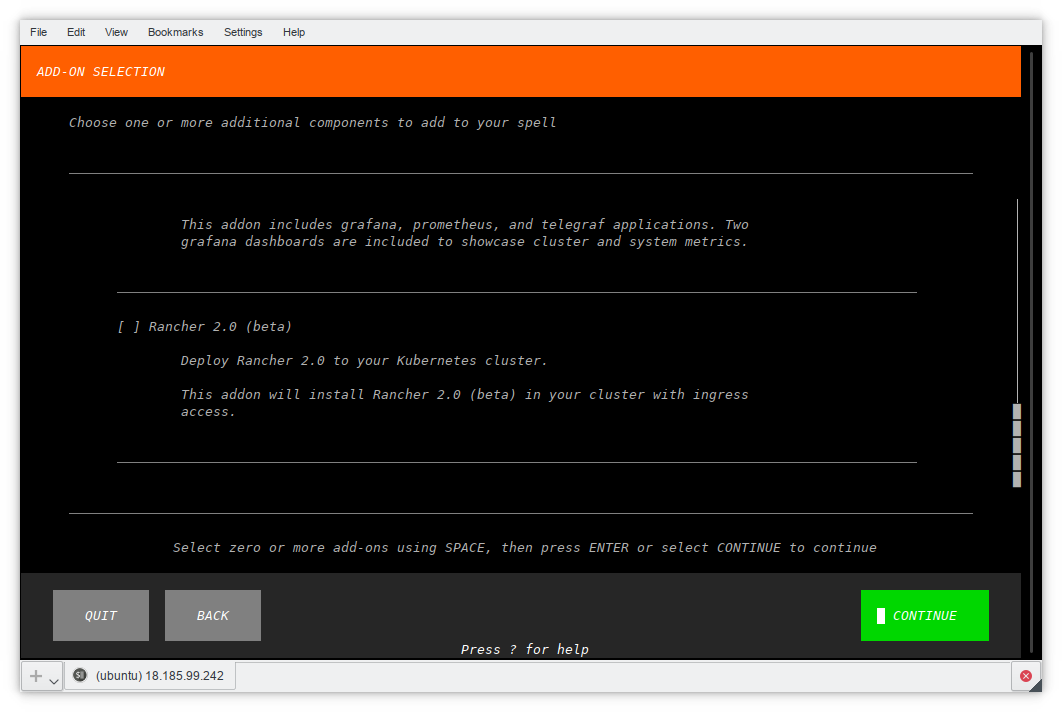 Selectam pentru deploy localhost: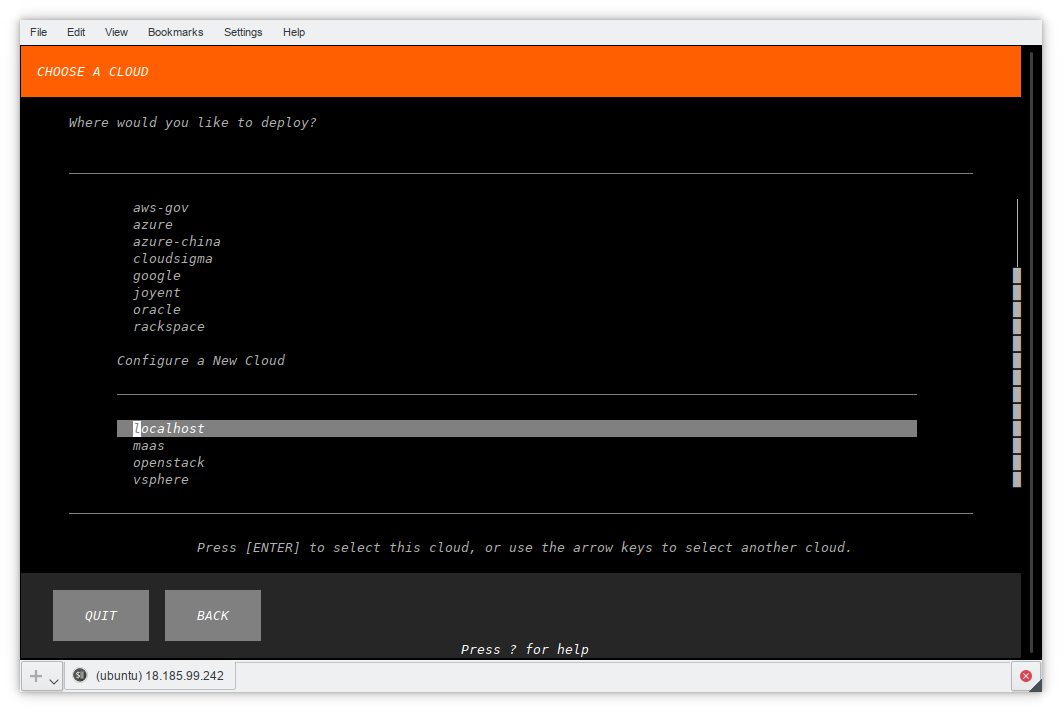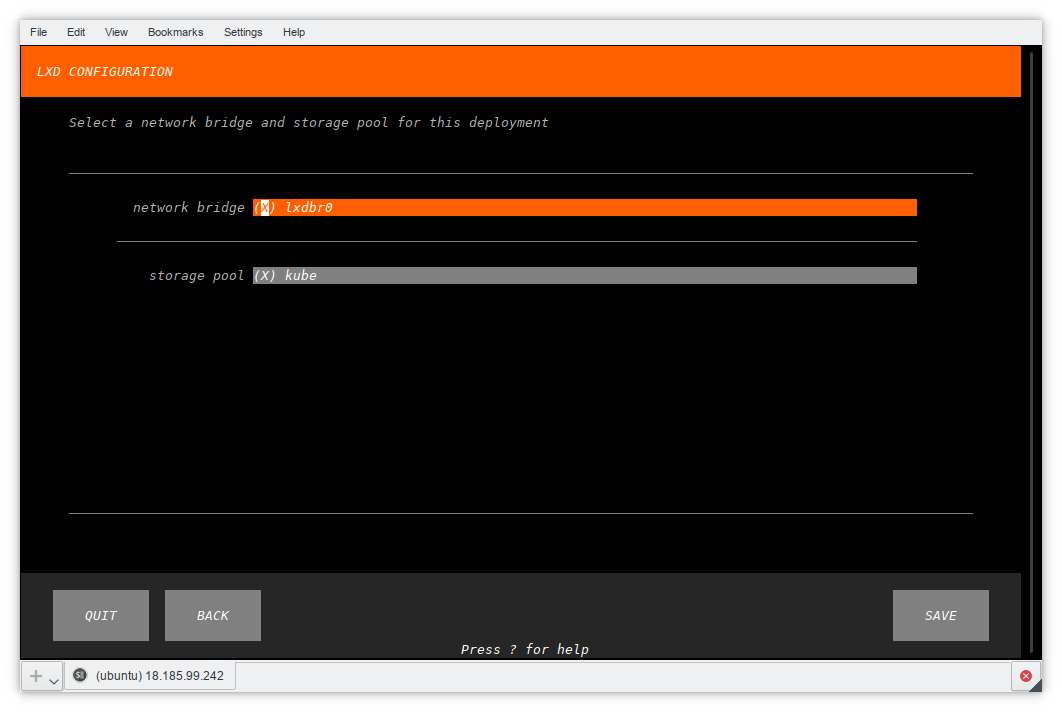 Selectam plugin-ul de retea ce va fi folosit de kubernetes: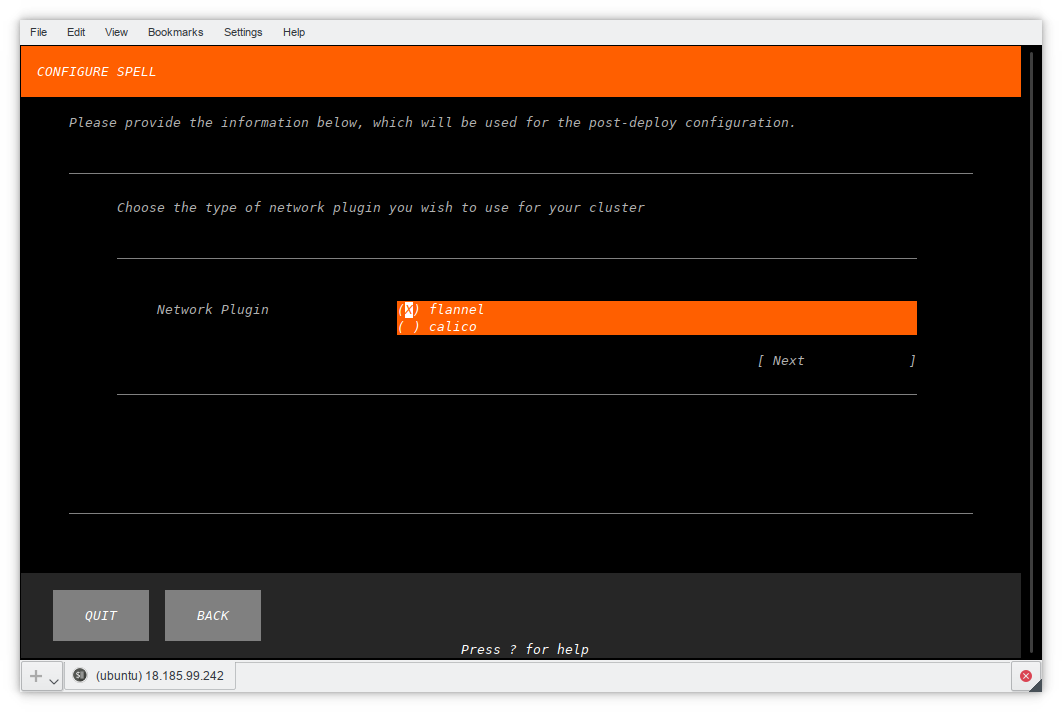 Parola userului: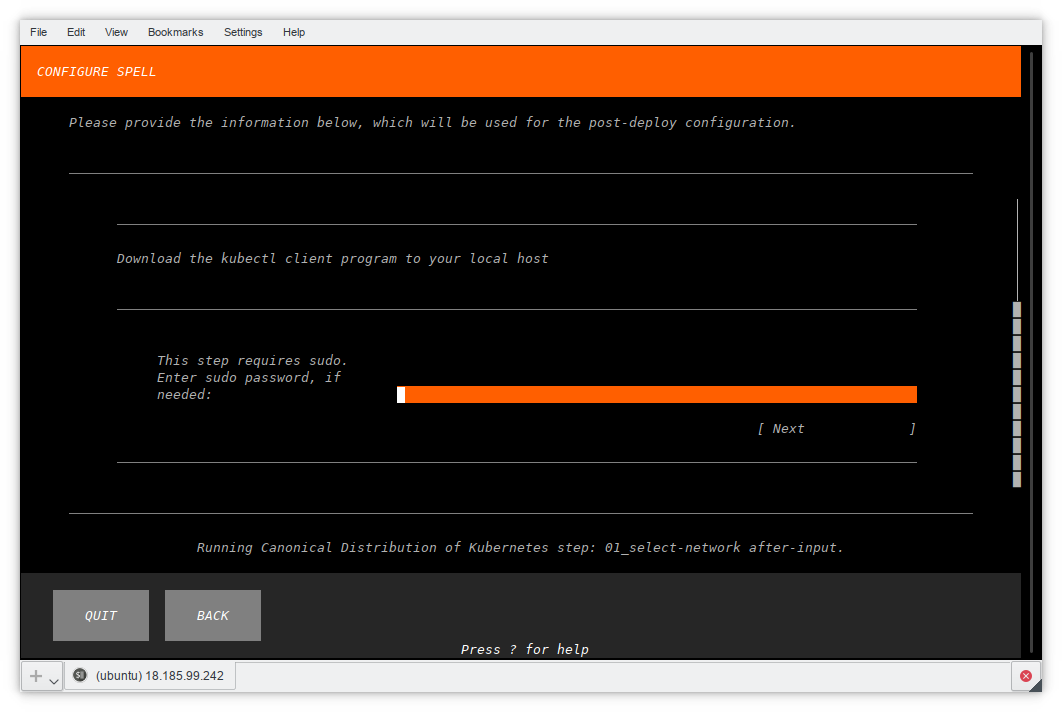 Aplicatiile necesare pentru kubernetes, ce pot fi configurare fiecare: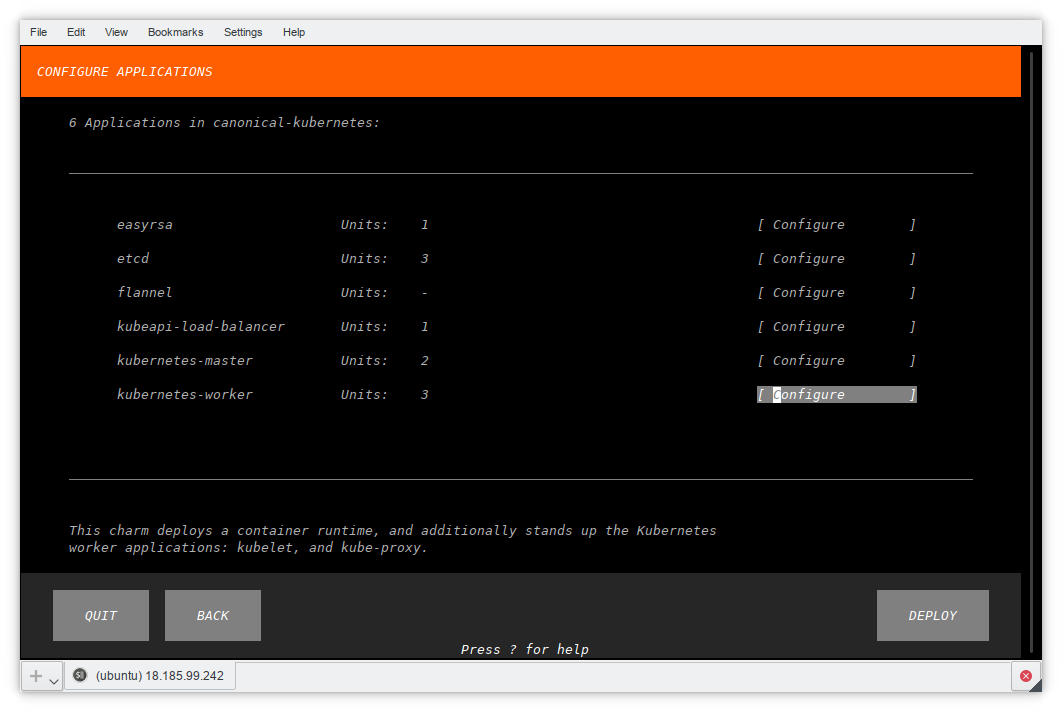 Am solicitat 5 pod-uri fiecare cu 2 core-uri, 2GB de RAM si 10G de disc: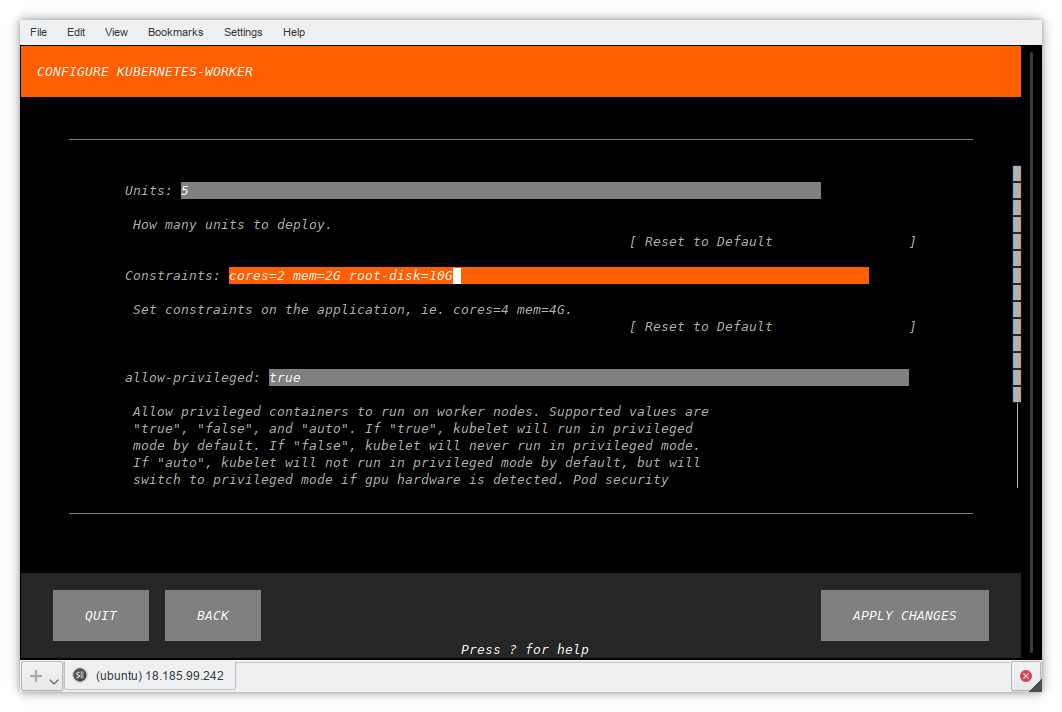 Procesul incepe: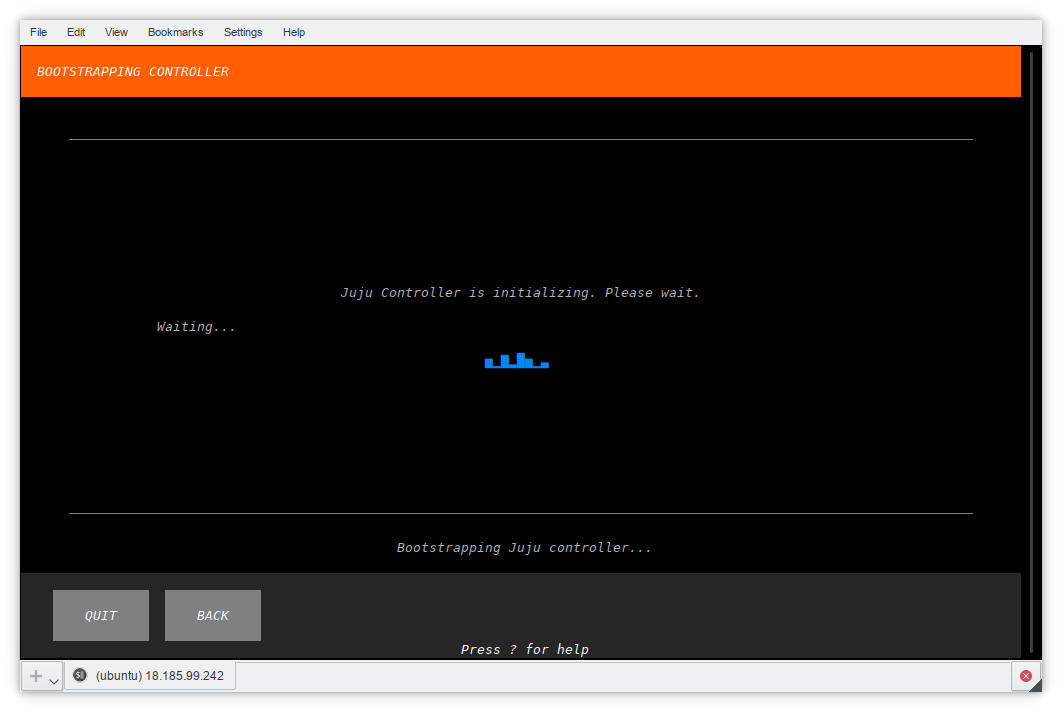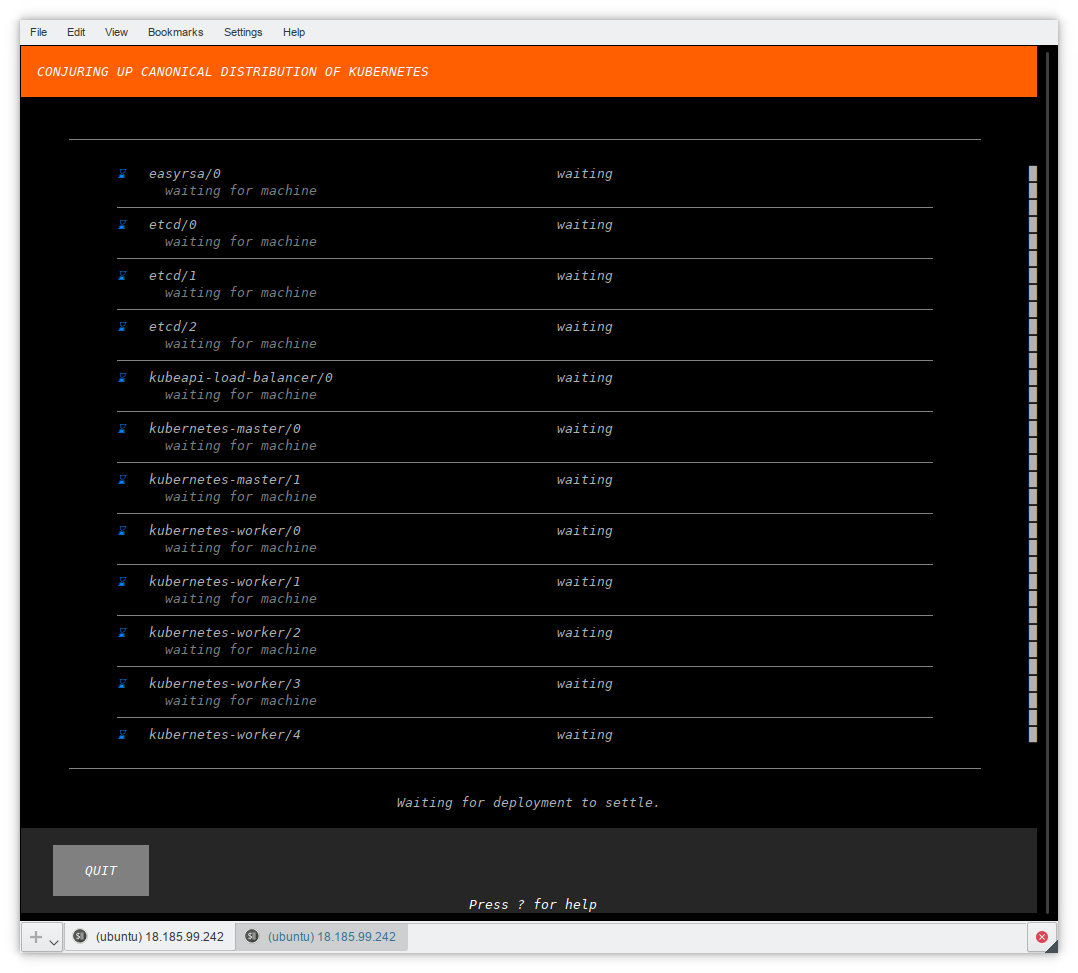 Pe timpul instalarii sistemul este folosit intens: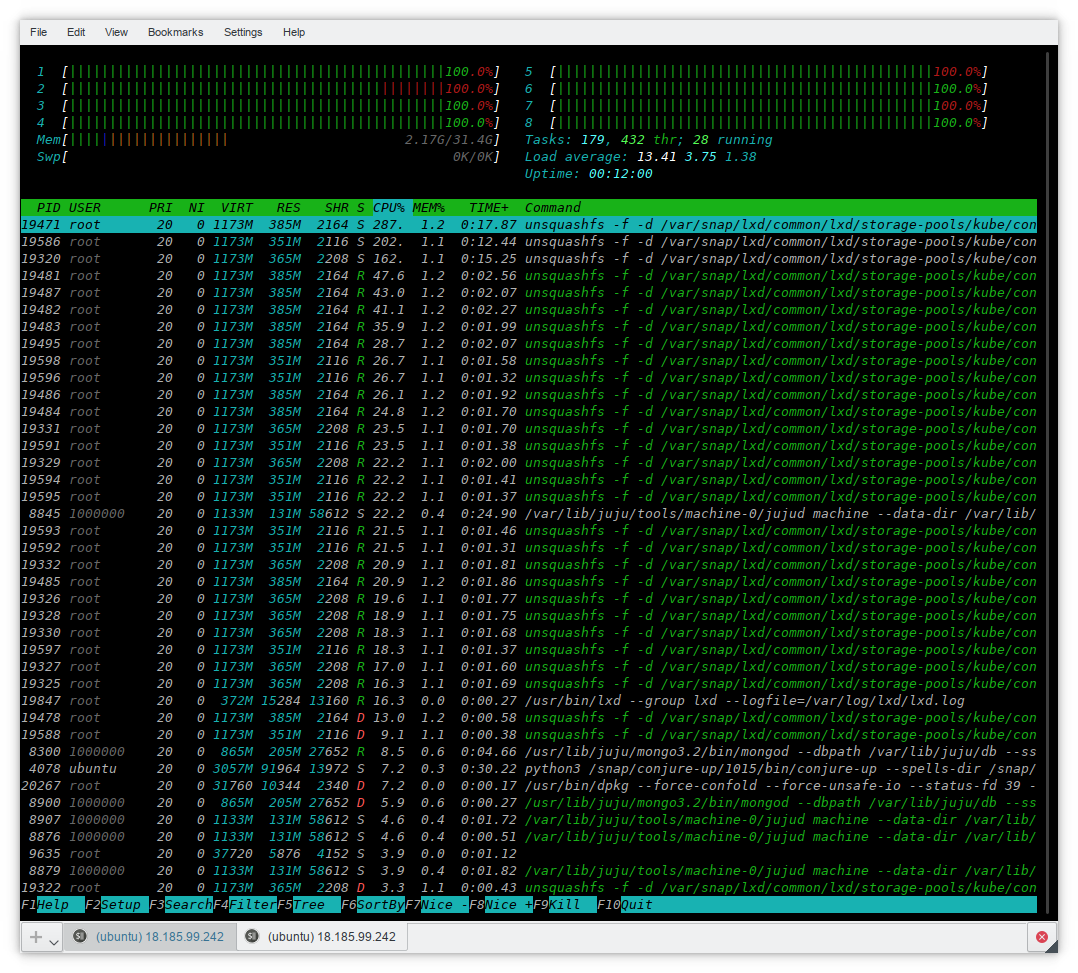 Etapele instalarii se pot vizualiza pentru fiecare nod/serviciu: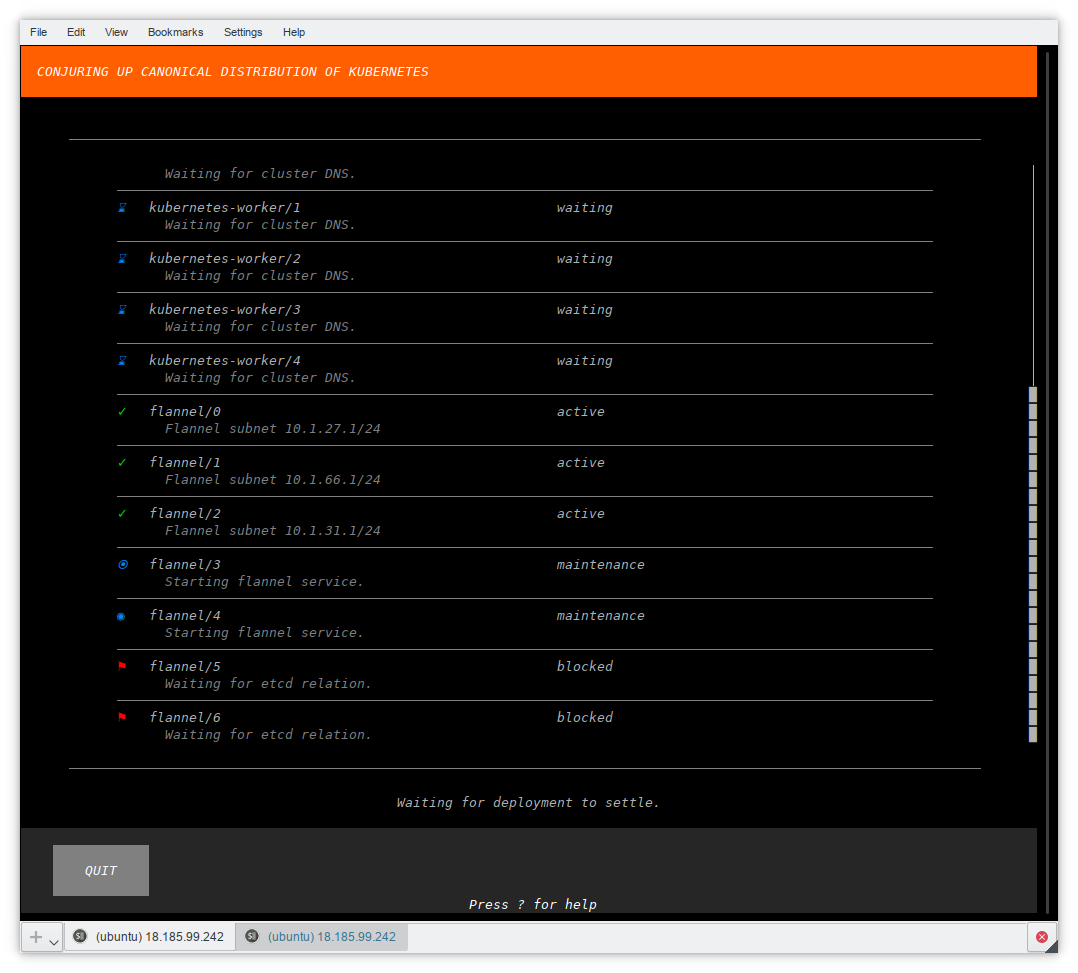 La final sunt copiate local configurare clusterului pentru a putea fi administrat de pe masina host cu kubectl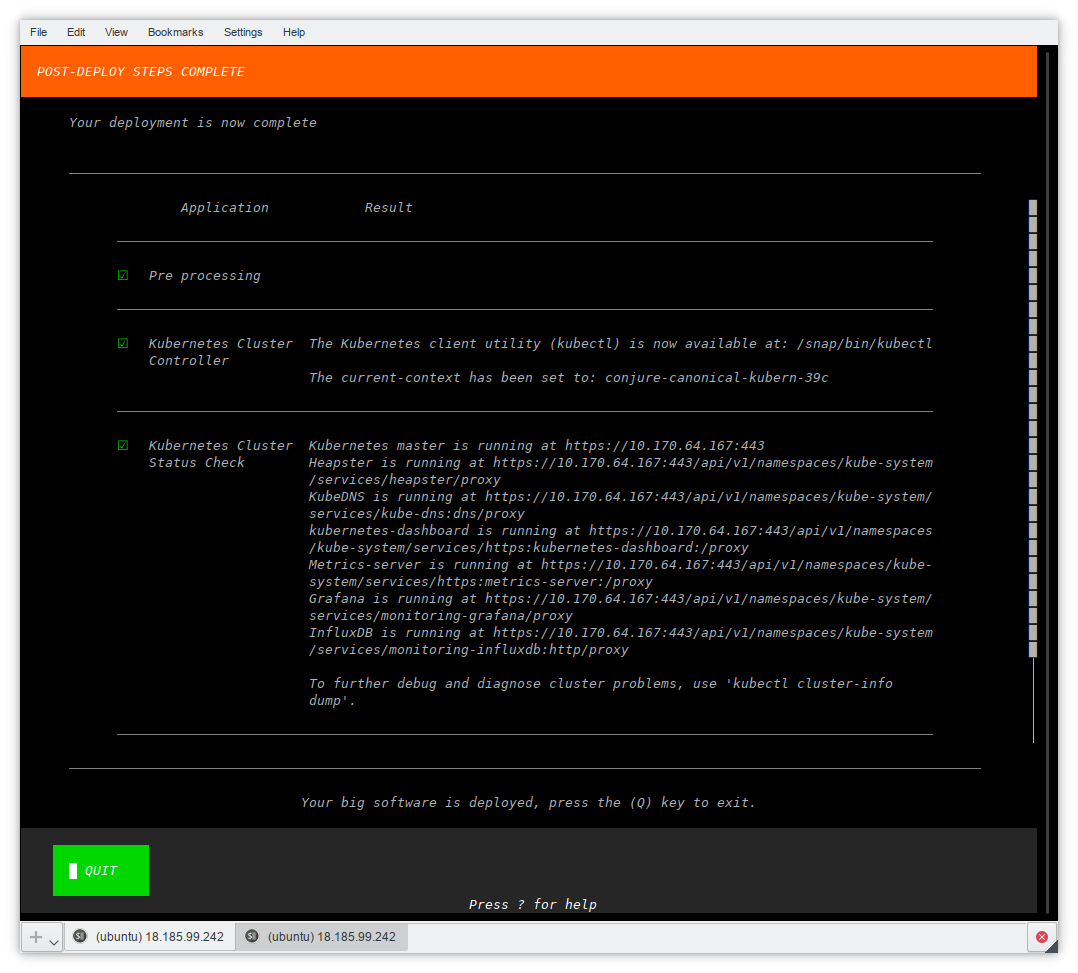 La final containerele pornite pentru clusterul kubernetes sunt:
$ 

lxc

 

list


+----------------+---------+-----------------------+------+------------+-----------+




|      NAME      |  STATE  |         IPV4          | IPV6 |    TYPE    | SNAPSHOTS |




+----------------+---------+-----------------------+------+------------+-----------+




| juju-433f68-0  | RUNNING | 10.170.64.81 (eth0)   |      | PERSISTENT | 0         |




+----------------+---------+-----------------------+------+------------+-----------+




| juju-433f68-1  | RUNNING | 10.170.64.227 (eth0)  |      | PERSISTENT | 0         |




+----------------+---------+-----------------------+------+------------+-----------+




| juju-433f68-10 | RUNNING | 172.17.0.1 (docker0)  |      | PERSISTENT | 0         |




|                |         | 10.170.64.215 (eth0)  |      |            |           |




|                |         | 10.1.84.1 (cni0)      |      |            |           |




|                |         | 10.1.84.0 (flannel.1) |      |            |           |




+----------------+---------+-----------------------+------+------------+-----------+




| juju-433f68-11 | RUNNING | 172.17.0.1 (docker0)  |      | PERSISTENT | 0         |




|                |         | 10.170.64.139 (eth0)  |      |            |           |




|                |         | 10.1.28.0 (flannel.1) |      |            |           |




+----------------+---------+-----------------------+------+------------+-----------+




| juju-433f68-2  | RUNNING | 10.170.64.208 (eth0)  |      | PERSISTENT | 0         |




+----------------+---------+-----------------------+------+------------+-----------+




| juju-433f68-3  | RUNNING | 10.170.64.196 (eth0)  |      | PERSISTENT | 0         |




+----------------+---------+-----------------------+------+------------+-----------+




| juju-433f68-4  | RUNNING | 10.170.64.167 (eth0)  |      | PERSISTENT | 0         |




+----------------+---------+-----------------------+------+------------+-----------+




| juju-433f68-5  | RUNNING | 10.170.64.105 (eth0)  |      | PERSISTENT | 0         |




|                |         | 10.1.27.0 (flannel.1) |      |            |           |




+----------------+---------+-----------------------+------+------------+-----------+




| juju-433f68-6  | RUNNING | 10.170.64.123 (eth0)  |      | PERSISTENT | 0         |




|                |         | 10.1.66.0 (flannel.1) |      |            |           |




+----------------+---------+-----------------------+------+------------+-----------+




| juju-433f68-7  | RUNNING | 172.17.0.1 (docker0)  |      | PERSISTENT | 0         |




|                |         | 10.170.64.182 (eth0)  |      |            |           |




|                |         | 10.1.31.1 (cni0)      |      |            |           |




|                |         | 10.1.31.0 (flannel.1) |      |            |           |




+----------------+---------+-----------------------+------+------------+-----------+




| juju-433f68-8  | RUNNING | 172.17.0.1 (docker0)  |      | PERSISTENT | 0         |




|                |         | 10.170.64.50 (eth0)   |      |            |           |




|                |         | 10.1.64.1 (cni0)      |      |            |           |




|                |         | 10.1.64.0 (flannel.1) |      |            |           |




+----------------+---------+-----------------------+------+------------+-----------+




| juju-433f68-9  | RUNNING | 172.17.0.1 (docker0)  |      | PERSISTENT | 0         |




|                |         | 10.170.64.148 (eth0)  |      |            |           |




|                |         | 10.1.39.1 (cni0)      |      |            |           |




|                |         | 10.1.39.0 (flannel.1) |      |            |           |




+----------------+---------+-----------------------+------+------------+-----------+




| juju-fd86fa-0  | RUNNING | 10.170.64.157 (eth0)  |      | PERSISTENT | 0         |




+----------------+---------+-----------------------+------+------------+-----------+



Mai multe despre clusterul kubernetes putem afla prin comanda:
$

kubectl

 

cluster-info


Kubernetes master is running at https://10.170.64.167:443




Heapster is running at https://10.170.64.167:443/api/v1/namespaces/kube-system/services/heapster/proxy




KubeDNS is running at https://10.170.64.167:443/api/v1/namespaces/kube-system/services/kube-dns:dns/proxy




kubernetes-dashboard is running at https://10.170.64.167:443/api/v1/namespaces/kube-system/services/https:kubernetes-dashboard:/proxy




Metrics-server is running at https://10.170.64.167:443/api/v1/namespaces/kube-system/services/https:metrics-server:/proxy




Grafana is running at https://10.170.64.167:443/api/v1/namespaces/kube-system/services/monitoring-grafana/proxy




InfluxDB is running at https://10.170.64.167:443/api/v1/namespaces/kube-system/services/monitoring-influxdb:http/proxy



Pentru conectare la interfata dashboard avem nevoie de userul si parola pe care o gasim in fisierul ~/.kube/config
$ 

cat

 

~/.kube/config


apiVersion: v1




.....




users:




  - name: conjure-canonical-kubern-39c




    user:




      password: zrq856BAHcjgCwEV99l7ML9LxiH8vZhZ




      username: admin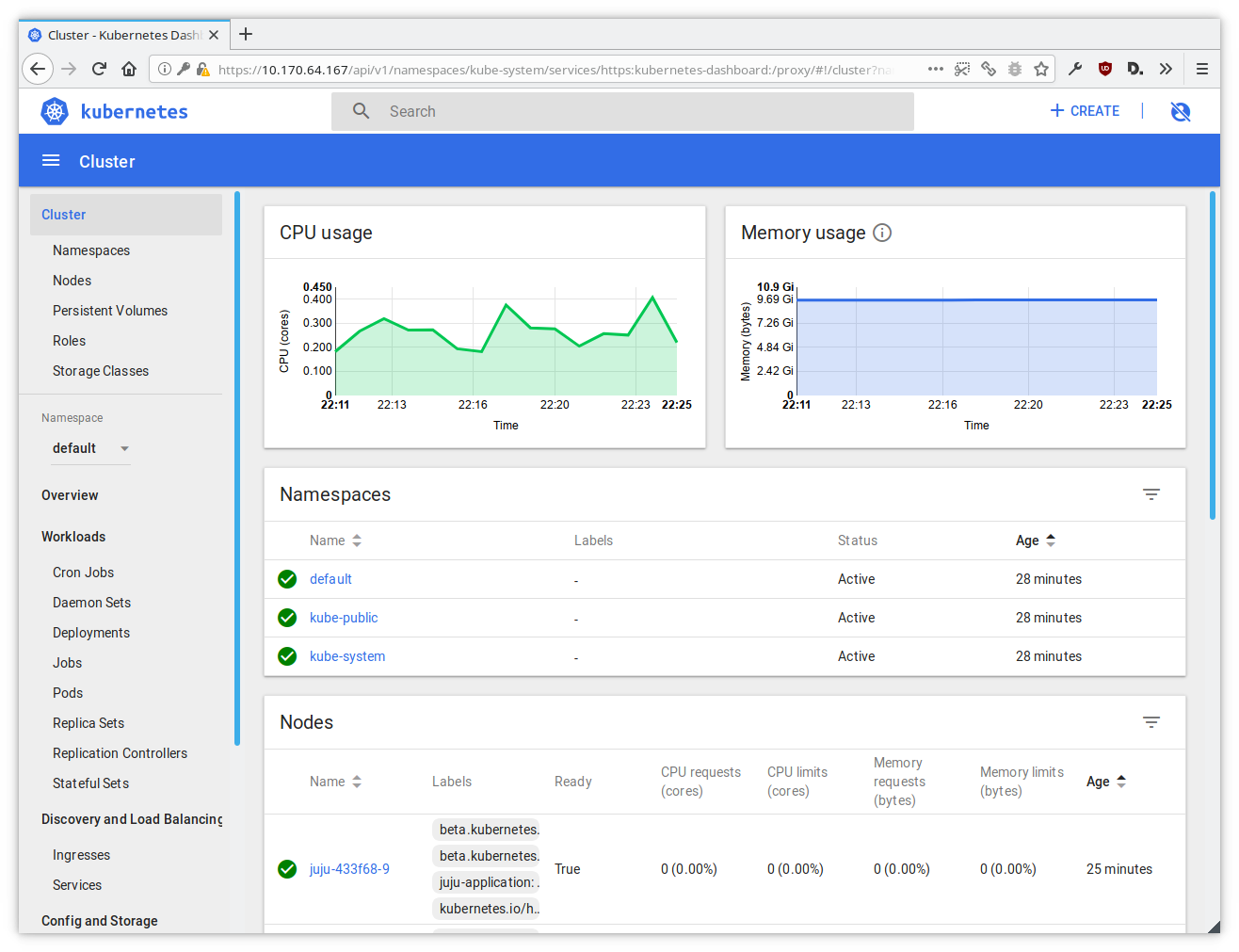 Statusul serviciilor il putem afla cu utilitarul kubectl:
$ 

kubectl

 

get

 

no,po,services,rc


 NAME                  STATUS    ROLES     AGE       VERSION




 node/juju-433f68-10   Ready     <none>    31m       v1.11.1




 node/juju-433f68-11   Ready     <none>    31m       v1.11.1




 node/juju-433f68-7    Ready     <none>    31m       v1.11.1




 node/juju-433f68-8    Ready     <none>    31m       v1.11.1




 node/juju-433f68-9    Ready     <none>    31m       v1.11.1





 NAME                                                   READY     STATUS    RESTARTS   AGE




 pod/default-http-backend-7f9xb                         1/1       Running   0          31m




 pod/nginx-ingress-kubernetes-worker-controller-2nzvf   1/1       Running   0          31m




 pod/nginx-ingress-kubernetes-worker-controller-b4l22   1/1       Running   0          31m




 pod/nginx-ingress-kubernetes-worker-controller-khlqg   1/1       Running   0          31m




 pod/nginx-ingress-kubernetes-worker-controller-r8s2b   1/1       Running   0          31m




 pod/nginx-ingress-kubernetes-worker-controller-xv277   1/1       Running   0          31m





 NAME                           TYPE        CLUSTER-IP     EXTERNAL-IP   PORT(S)   AGE




 service/default-http-backend   ClusterIP   10.152.183.6   <none>        80/TCP    31m




 service/kubernetes             ClusterIP   10.152.183.1   <none>        443/TCP   33m





 NAME                                         DESIRED   CURRENT   READY     AGE




 replicationcontroller/default-http-backend   1         1         1         31m



Avand clusterul ruland puteti rula, testa toate serviciile puse la dispozitie de kubernetes. Mult success
O prezentare interesanta de acest subiect puteti urmari pe youtube
Mai multe legat de LXD puteti gasi in seria de articole Virtualizare cu LXD